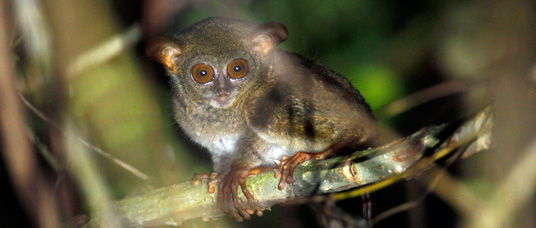 Volunteer with Tompotika's First Scientific Tarsier Survey: 25 January – 10 February, 2016
In a place as remote as Tompotika, part of our job in protecting wild nature is figuring out what's there in the first place. The tarsier is a case in point: no one has ever studied them to know exactly what species Tompotikan tarsiers are.
It could possibly even be a brand-new species hitherto unknown to science! It's time to find out.
From 25 Jan – 10 Feb 2016, a small intrepid group will travel to Tompotika to do just that, and you can join them. This 17-day expedition is led by renowned tarsier expert Dr. Myron Shekelle.
To assist with this survey, you don't need any special scientific skills. What you do need is a spirit of adventure and flexibility, a fondness for hanging out in the woods, and a desire to contribute to scientific knowledge and conservation.
For more information, contact Sheila Eckman at sheila@tompotika.org.
Dates: 25 Jan – 10 Feb 2016 (17 days)
Cost: $3200, not including international airfare ($100 discount for those registering prior to Oct 1, 2015.) Price includes all in-country travel, food, accommodation, and survey equipment.
Details and Registration
Registration Form Print this PDF file to apply.
Recent tours:
helped out with the first-ever scientific survey of the butterflies of the Tompotika area

aimed to rid the environment of harmful trash

painted large murals celebrating nature conservation in two towns
More about AlTo's Travel-Service Opportunities