Visiting Tompotika:
Traveling to Tompotika means going off the beaten track, but visitors are very welcome at many of AlTo's conservation sites. Most of our sites are 3-5 hours' drive from Luwuk, Central Sulawesi, which is served by flights from Makassar and Manado.
If you are an international visitor and would like to spend a few days viewing the maleo nesting ground, Bat Island, or hiking in the Protected Forest, we recommend you employ a local guide, such as Malia Tours (www.maliabirding.com), who will help with arranging transportation and accommodation locally. A limited number of visitors can be accommodated with advance reservation at AlTo's Camp Home Sweet Home adjacent to the maleo nesting ground.
Click here for details on visiting the Maleo Nesting Ground at Libuun, Taima village.
AlTo's Eco-Service Tours: People-to-People Conservation
Do you like to travel the world and explore remote areas? Enjoy working with kids, art, and nature?
When a local need demands it, AlTo leads a small group of international travelers on a tour to visit Tompotika and assist with conservation projects there. Most tours last about 15 days. Service tours in past years include projects to help out with scientific surveys of, respectively, tarsiers and butterflies; painting large wildlife murals on school walls; cleaning beaches of harmful trash, and more. The trips include time working side-by-side with villagers on the assigned task as well as plenty of time exploring Tompotika's rainforests and snorkeling its coral gardens., as well as, of course, observing maleos, sea turtles, bats, and other wildlife.
We currently do not have Eco-Service tours planned for 2019, but please check back later for updates. If you would like to be notified of future tours, please e-mail us of your interest at: info@tompotika.org.
Recent tours:
2016: Tarsier Surveys – carried out first-ever scientific survey of the tarsiers of the Tompotika area
2012: Murals –

painted large murals celebrating nature conservation in two towns

2010: Trash – aimed to rid the environment of harmful trash
2009: Butterflies – helped out with the first-ever scientific survey of the butterflies of the Tompotika area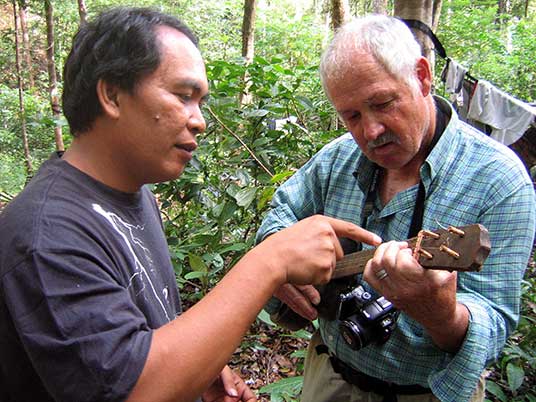 Eco-service traveler George gets a pointer from AlTo Board member Dr. John Tasirin (© Michael Heiner/AlTo)