Art inspires. Art reveals. Art sustains. And Art changes things. In a world where conservation can sometimes seem to be full of "don'ts" (don't take maleo eggs, don't clear the forest, don't pollute the ocean), AlTo's Art for Conservation programs help remind folks that it's really much more about "do!" Do sing along with a rainforest downpour. Do reflect the beauty of that sunset in your sketchbook. Do capture the grace of maleo movements in a dance with your friends.
In AlTo's mission to change human minds, hearts, and behavior, the Arts provide a powerful vehicle for highlighting and celebrating those things that we love, and want to encourage, protect, and nurture.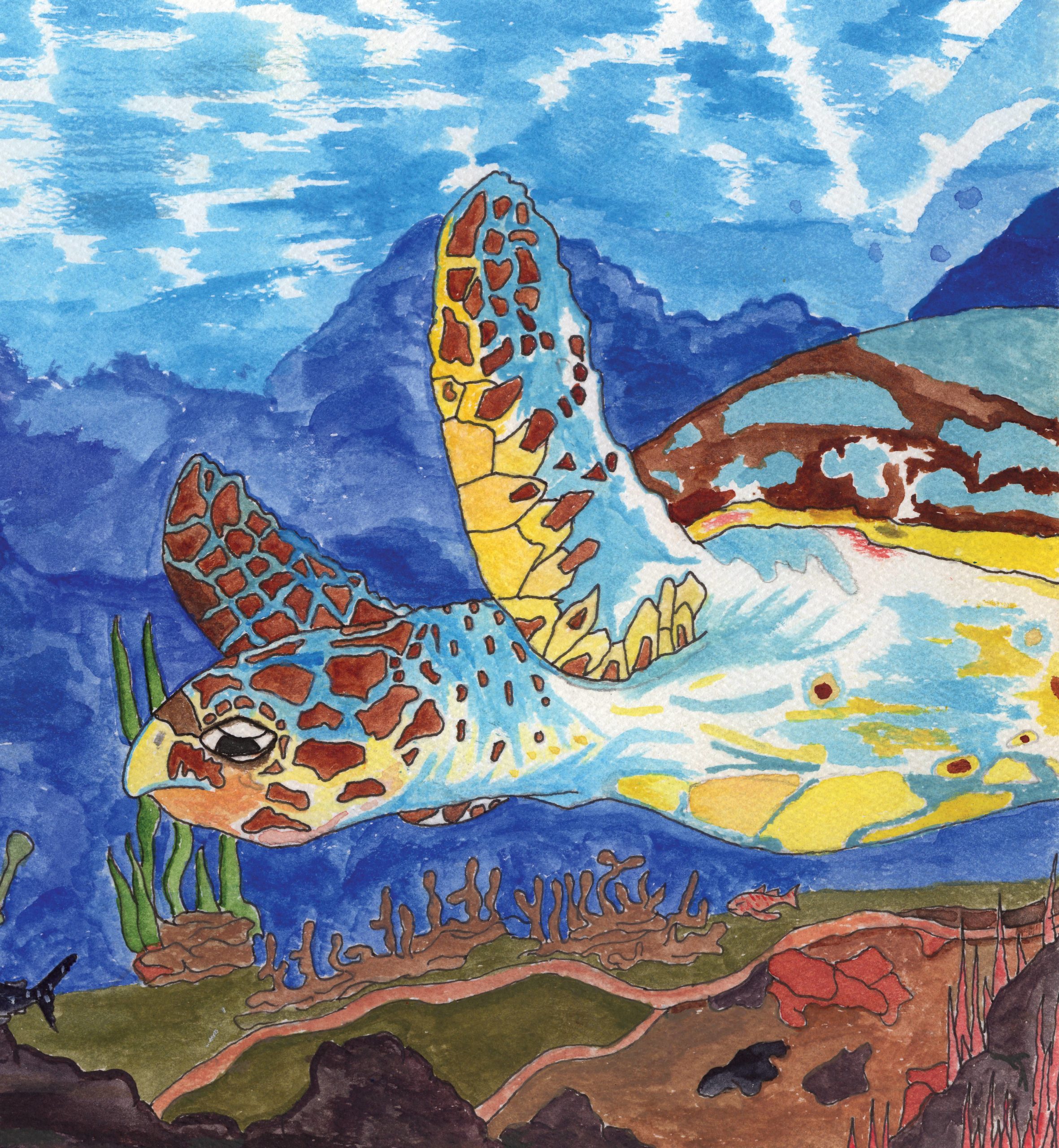 By Tompotika high school student Krisno Dohal, age 17
Held every two years, AlTo's Tompotika International Maleo and Sea Turtle Festival is a three-week extravaganza of drama, music, physical play, and community spirit–all on the conservation theme. In the first week, a group of 12-15 Tompotika-area high school students comes together to create an original drama; past dramas have featured topics such as maleos and sea turtles, oil palm, human overpopulation, and an adaptation of Dr. Seuss' The Lorax.
In the second and third weeks, the students, along with a large company of AlTo staff and volunteers, take their drama–and a fun-filled collection of other conservation-themed activities–on the road, bringing this traveling, day-long  Festival to 5-7 different villages across the region.
Through AlTo's day-long Festival of games, booths, exhibitions, workshops, arts activities, music, and drama, villagers of all stripes–men on motorbikes, women with babies on their hips, grandparents watching from the shade, and kids of all ages–join together to enjoy, learn about, and celebrate their priceless natural heritage–and all at no charge.
A popular and effective way to raise awareness of and support for conservation issues, Festival has become a favorite Tompotika tradition since 2014. 
For more about specific Festivals and Jackoustik, see AlTo's newsletters: May 2020, April 2018, March 2017, March 2015, and June 2014.
Jackoustik: Music for Conservation
Named in memory of late AlTo Board member, musician, and consummate conservationist Dr. Jack Barbash, the Jackoustik Music for Conservation contest inspires Tompotika musicians to compose and perform original music on a conservation theme.
From a band of four middle-school girls, to a choir of twenty schoolkids, to a heart-rending solo guitarist, Jackoustik has facilitated the composition of dozens of new and original conservation-themed songs, many of which have continued to be performed and passed around long after and far beyond the Jackoustik contest itself, continuing to inform and inspire a conservation ethic for tomorrow.
To hear video samplings of past Jackoustik performances, click here.
other art for conservation projects
AlTo believes in the power of Art to change things. Other AlTo Art for Conservation projects include:
The Wildlife Murals project, in which a group of international volunteers worked with villagers to create beautiful murals on school walls in two villages (read about it here).
The Youth Calendar Project, in which a dozen talented Tompotika high school artists participated in a 9-day workshop by professional wildlife artist Sandra Noel on how to draw and paint from nature; their works were made into a 2010 calendar (read about it here).
… and many smaller projects–some involving guest artists–with children and adults in schools and villages.
You can help celebrate the nature that we love, and support joyful, powerful support for conservation through the Arts with a donation to AlTo. Thank you!