The Alliance for Tompotika Conservation (ALTo) is committed to helping all of nature, including people, thrive.
Our work is centered in Sulawesi, Indonesia–one of Earth's most unique biological treasure-houses. At the invitation of local communities, AlTo forges partnerships to protect and restore imperiled species, tropical rainforests, and other natural ecosystems while supporting the dignity and self-sufficiency of local communities in a changing world.
Indonesia is the world's biodiversity capitol, with more plant and animal species in its terrestrial, freshwater, and marine environments than any other country in the world. Indonesia also has more endangered species than almost any other country in the world, most of them endangered by human activities.
The Alliance for Tompotika Conservation / Aliansi Konservasi Tompotika, called "Al-To" for short, is an international partnership dedicated to helping heal the relationship between people and the rest of nature, starting in one very special place: the Tompotika peninsula on Indonesia's island of Sulawesi.
The AlTo alliance was formed when local villagers in Taima, Tompotika, asked visiting conservation biologist Marcy Summers to help them prevent the disappearance of the endangered maleo bird in their area. Assembling a team of local, national, and international participants working side by side, the group launched AlTo's first maleo conservation effort in 2006.
AlTo is a partnership of a registered Yayasan non-governmental organization in Indonesia and a registered non-profit 501(c)(3) organization in the United States, with Boards in both countries.
Our Earth is in crisis. AlTo works directly with local communities to search for solutions, because we believe that meaningful change begins with real people, who wake up to birdsong, get dirt under their fingernails, and dream of their children's futures. And, just as the whole world contributes to our current planetary crisis, so the whole world must join together to heal it.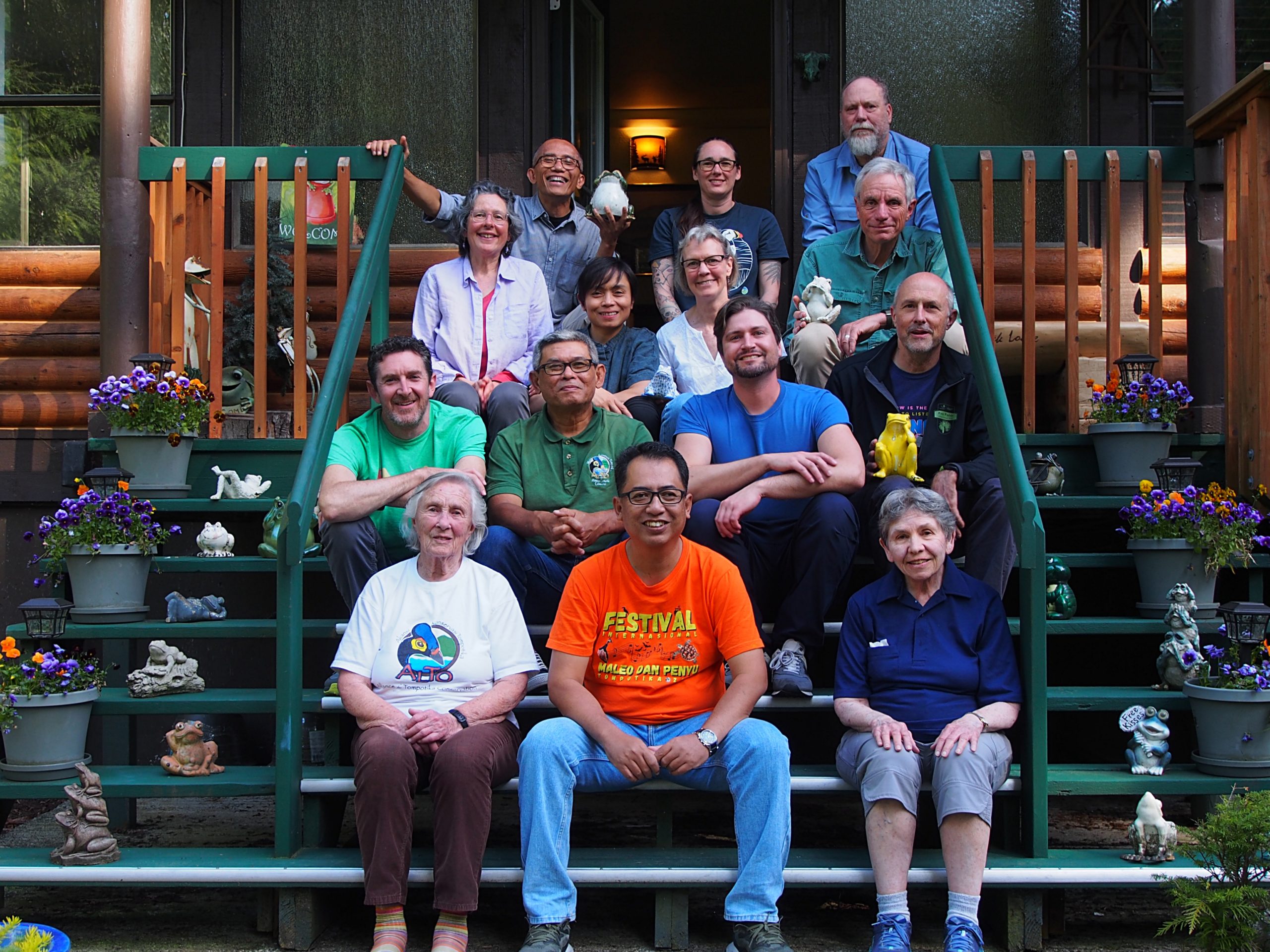 Laura Bienen
US Board Treasurer
Home Base: Vashon Island, Washington, USA
Joined AlTo: 2022
Profession: Community Volunteer
As a young adult, Laura spent almost ten years studying, living and working in Shanghai and Tokyo. She worked as a tour leader in China and as a commercial insurance broker in Japan. Since moving to Vashon Island,  while   raising a family with her husband,  Laura has been involved with non-profit organizations supporting the local public schools  and other local community organizations. Laura has followed AlTo, its  mission and its growth since its inception. She welcomes the opportunity to learn  and  to contribute by serving on the board of this effective and nimble organization.
Chuck Cannon, PhD
Advisor
Home Base: Chicago and Texas, USA
Joined AlTo: 2019
Profession: Tree Scientist
Chuck Cannon discovered his deep fascination for trees after spending a year in the Bornean rainforests as an undergraduate research assistant. While he had intended to study primate behavior, the trees were clearly the big show in town. Since 1987, he has been studying and thinking about the ecology and evolution of trees and forests of tropical Asia, both in their 'natural' state and under different forms of management. He is the founding Director of the Center for Tree Science at the Morton Arboretum, leading efforts to discover and communicate the scientific knowledge necessary to assist trees to adapt to future environmental challenges.
Nigel Collar, PhD
Advisor
Home Base: Cambridge, UK
Joined AlTo: 2019
Profession: Conservation Ornithogist
Nigel Collar is the Leventis Fellow in Conservation Biology at BirdLife International, where he assesses the status and needs of species threatened with extinction and promotes their conservation. In the past two decades he has co-supervised 25 PhD students at five universities, focusing on threatened birds and seeking to build scientific and conservation capacity in developing countries (Botswana, Cambodia, Dominican Republic, Ethiopia, Ghana, Kazakhstan, Philippines, Zambia). Nigel is a senior author of the HBW/BirdLife illustrated checklist of the birds of the world, Research Associate of the Natural History Museum, UK, Co-chair of the IUCN Bustard Specialist Group, and honorary professor at Manchester Metropolitan and East Anglia universities. 
Shana Hirsch, PhD
US Board Secretary
Home Base: Vashon Island, Washington, USA
Joined AlTo: 2023
Profession: Research Scientist, University of Washington
Shana Hirsch is a Research Scientist in the Department of Human Centered Design and Engineering at the University of Washington. She has an interdisciplinary background in sustainability social science and water management and policy. She is also Co-Director of the Pacific Marine Energy Center, where she collaborates with industry, government, and university researchers to understand innovation in marine energy. Shana is excited to support an organization that is doing innovative conservation work and making a real impact. 
Mac Hunter, PhD
Advisor
Home Base: Amherst, Maine, USA
Joined AlTo: 2019
Profession: University Professor (emeritus)
Malcolm "Mac" Hunter is an emeritus professor in the Department of Wildlife, Fisheries, and Conservation Biology at the University of Maine where his work has covered a wide range of organisms and ecosystems, especially forest birds and amphibians, and included six books, mainly on conservation biology and managing forests for biodiversity. Mac has worked in over thirty countries and been active with many conservation organizations, most notably serving as President of the Society for Conservation Biology. He earned his B.S. in Wildlife Science at UMaine then went to Oxford University where he received his Ph.D. in Zoology.
Djoko Iskandar, PhD
Indonesian Board Overseer
Home Base: Bandung, West Java, Indonesia
Joined AlTo: 2006
Profession: University Professor (emeritus)
Dr. Djoko Iskandar is an active, elected member of the Indonesian Academy of Sciences. His doctoral study in France was on small mammal evolution, but on returning to Indonesia, he pioneered the study of amphibians and reptiles, and became Indonesia's first and pre-eminent herpetologist. Djoko has been involved in numerous research and conservation efforts, and especially enjoys working on ecology, conservation, systematics and evolution of Southeast Asian Vertebrates.
Yvonne Kuperberg
US Board Member
Home Base: Vashon Island, Washington, USA
Joined AlTo: 2006
Profession: Citizen Scientist
Yvonne has decades of experience in education, business, and founding and running conservation projects and non-profits. She says, "To me, preserving/restoring the flora and fauna of the Earth with the advice and help of the local people is our primary goal. Educating people to remind them that each of our lives needs the world around us. For us to survive, all must survive. This is what I see AlTo doing and why I am a Board member."
Ellen Kritzman
US Board Member
Home Base: Vashon Island, Washington, USA
Joined AlTo: 2006
Profession: Zoologist (Retired) & Community Activist
Ellen worked professionally at the Library of Congress and the University of Puget Sound's Slater Museum of Natural History. Her field guide, "Little Mammals of the Pacific Northwest" was published in 1977. After retirement she focused on volunteering and co-founded five, mostly conservation oriented, Vashon non-profits, and served on several other boards. Ellen is a founding member of AlTo and went to Sulawesi with the U.S. contingent that initiated the maleo egg collecting moratorium in 2006. Originally excited by Sulawesi's biodiversity and the chance to discover new species, she soon came to value most the education and instillation of a conservation ethic in students through AlTo's school programs. She sees AlTo as a model of the power of collaboration in grassroots conservation efforts.
Ichsan Tobing
Advisor
Home Base: Olympia, Washington, USA
Joined AlTo: 2019
Profession: Business Consultant, Executive Coach
Despite living in the US, Ichsan's heart remains in Indonesia. Ichsan provides his managerial perspectives to AlTo about business dynamics in Indonesia. He works with small and large corporations mostly in Jakarta, online. His favorite part of work is experiencing AHA moments together with clients in both business and personal life.
Cliff Rice, PhD
US Board President
Home Base: Olympia, Washington, USA
Joined AlTo: 2017
Profession: Research Scientist (retired) and University Professor
Dr. Cliff Rice was born in India and his interest in wildlife grew out of childhood experiences in forests and mountains of India. In addition to his doctoral research in South India on Nilgiri tahr, he was a Peace Corps volunteer in Nepal, coordinated research on sloth bear (in India), and was a biologist for the Commonwealth of the Northern Mariana Islands. Cliff has retired from the Washington Department of Fish and Wildlife, where he conducted research on mountain goats and black-tailed deer in Washington State, and he currently serves as Affiliate Assistant Professor in the School of Environmental and Forest Sciences, University of Washington.
Toby Ross
US Board Vice President
Home Base: Seattle, Washington, USA
Joined AlTo: 2021
Profession: Conservation Biologist
Toby grew up in rural England fascinated by tropical wildlife and exotic locations. Endangered species conservation has always been his driving force, leading to projects on reptiles in Mauritius and the Caribbean, creating protected areas in Papua New Guinea, and researching birds in the US. Toby is excited to contribute his knowledge and experience to protecting Indonesia's biodiversity, and work alongside local partners to devise successful conservation solutions that work for everyone.
John Tasirin, PhD
Indonesian Board Head
Home Base: Manado, North Sulawesi, Indonesia
Joined AlTo: 2006
Profession: University Professor
 Dr. John Tasirin has taught Forest Resources Conservation and Ecology at Sam Ratulangi University since 1988. His thirty years of conservation work includes research, extension programs, consulting for government, land management, policy development, and strategic planning. He oversees numerous conservation programs run by a variety of Indonesian and international organizations. John studied northern hardwood forests for his master's degree at the University of New Brunswick, Canada, and Tasmanian forest ecosystems for his PhD at the University of Tasmania, Australia.
Leli Yulianti
US Board Member
Home Base: Seattle, Washington, USA
Joined AlTo: 2021
Profession: Success Mindset Coach
Born and raised on a small Island of West Java, Indonesia, Leli made her way to Seattle through Yogyakarta, Bali, Sunderland, Edmonds, and Vashon Island. As mom of a teen boy and a success mindset coach, Leli is constantly learning, growing, and expanding her horizon to show her son the marvelous gift we are given, life. Leli spent half of her life in Indonesia, whose cultures and natures are imbued in her blood. Even though she's been living in America for two decades, Java has always been home. Leli feels that being a member of AlTo's board is an honor, as she can continue to contribute in ways that she can to her roots from afar.