Marcy Summers, Director
Marcy Summers is a 4th-generation native of the islands of the Puget Sound, Washington, USA. She has a bachelor's in Comparative Religion from Harvard University and a master's in Wildlife Ecology and Conservation from University of Maine.
Marcy has been the recipient of a number of awards for leadership and innovation, including the Switzer Foundation's Fellowship for Environmental Leadership and the Maine Governor's Award for Environmental Excellence. For 13 years, Marcy worked as a scientist for The Nature Conservancy (TNC) in the United States, Indonesia, and Papua New Guinea. She left TNC in 2006 to co-found AlTo.
Tompotikan Staff
AlTo's staff are a terrific group–all very smart, able, and dedicated as individuals, but perhaps more importantly, cohesive and mutually supportive as a team.
AlTo's in-country staff, at our base camp Home Sweet Home
(© Sandhy Bawotong/AlTo)
Left to Right:
Ahmad Muh. Nur, Conservation Officer
Noval Suling, Government Relations Manager
Wiranto Abas, Conservation Officer
Adrianus "Sandhy" Bawotong, Conservation Officer and Maintenance Manager
Ritfan "Ipan" Djano, Conservation Officer and Artist
Pandji Kresno, Field Program Manager
Moh. "Pandy" Isfandri, Conservation Officer
Agustian Laya, Program Coordinator
Maryati Abiduna, Conservation Education and Outreach Specialist
Vivi Tan Oga, Assistant Field & Research Manager
Marcy Summers, Director
Not pictured:
Mega Pumalasari, Operations Assistant
Sukendra Mahalaya, PhD
Senior Manager for Operations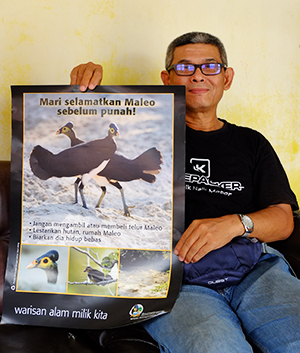 U.S. Staff
Not pictured:
Steve Sears, Data Analyst
Suzette Stephens, PhD, Conservation Biologist for Special Projects